In my head, I am sitting on a terrace overlooking Mount Ulia, and I could not be more relaxed. A bottle of ice cold Basque cider and tasting of a mushroom duxelle filled puff pastry appear out of thin air, along with a basket of freshly baked country bread and yes, homemade butter! These images fill my head while pondering my blissful afternoon at Zelai Txiki.
Two people in San Sebastian have recommended this very popular restaurant to me this year, and with my birthday coming up, my wife treated me to a fantastic surprise lunch. Please join me on a sensory tour of my feast:
Zelai Txiki
Rodil Zehar kalea, 79
San Sebastian (in the Basque country)
www.restaurantezelaitxiki.com/
4.75 stars out of 5 stars
First tastes:
A meal of such epic proportions must commence in an equally fantastic fashion. Regarding their croqueta de jamon: You may encounter many croquettes in San Sebastian, but let's be 100% clear: this happened to be one of the best I have ever tried. Possibly this is due to an overwhelming sensation of creaminess because the restaurant's recipe uses goat's milk; plus there were bits of delectable ham inside. An order contains only one, but this was the perfect portion for a pintxo.
Next I was thrilled to try Zelai Txiki's homemade Iberic txistorra. I was treated to a real surprise when I tasted this grilled Basque sausage (which is normally boiled and was especially excellent. I could really sense the time and care put into its perfect seasoning and composition). If this restaurant was closer to the center of town, I would definitely return frequently for these first two lovely bites.
Revuelto con txangurro y calabacín: My appetizer was a twist on a Basque favorite: scrambled eggs with spider crab and zucchini. The Crab, called txangurro, gives the soft eggs some sweetness and flavor of the sea, while the mild and crunchy zucchini played well in this unique combination of textures. This dish was a winner, meant for lovers of seafood. Did I mention that they prepare dishes using produce such as tomatoes and zucchini grown in their on-site orchards?
Cochinillo Cochinillo!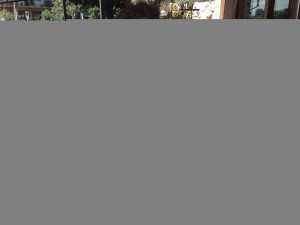 The dish "suckling pig" is one I have heard about for years; especially considering how often my father has consumed it during his various visits to all parts of Spain. Honestly, I felt a little nervous ordering it: I am a lover of pork, but certain parts of the pig seem absolutely unattractive to my taste buds. Nevertheless, I heard that this restaurant roasts their pork over beech or oak wood for hours in a style called al burduntzi, using their oven which is 3 meters or 10 feet in diameter! (I hear they roast lamb in a similar style and it is also delicious.) Therefore I was convinced to try it out.
My plate contained a half moon shaped piece of perfectly crisped pork, sitting atop a few well-prepared rounds of potato. When I cut into the cochinillo, my first thought was: the skin is so crisp but the meat is so soft! Side note: I asked the restaurant to de-bone my pork. Double side note: I later discovered that my server (or whatever the current politically correct term for that person is) happens to be Eva, the extremely friendly owner of Zelai Txiki! I proceeded to destroy every scrap of meat on my plate except for a small bone at the end. I now completely understand why people are amazed by suckling pig, and I must humbly thank this restaurant for a worthwhile learning experience.
French toast for dessert?
My decision to tackle yet another Basque specialty for dessert was wise. I was presented by a colossal piece of caramelized brioche "French toast" with a scoop of energizing coffee ice cream. I have certainly consumed many versions of torrijas, and this was by far the largest. By no stretch of the imagination was this bad thing: the top was wonderfully caramelized, the inside was fluffy, and the accompanying ice cream accurately displayed a rich coffee flavor while well complimenting the dessert. In other words: the final course met my expectations based on the rest of my outstanding meal!
Conclusion:
Long time readers might notice that this is the highest score I have ever given to a restaurant, and Zelai Txiki deserves it. For any home cooks out there, I was told by the owner that they cook pork for 2.5 hours in the wood oven at 425 degrees F (210 degrees C). I imagine that some level of magic is involved to produce such wonderful food. My true hope is that everyone has a chance to travel to San Sebastian some day. Instead of visiting the touristy bars and restaurants, come and visit the genuine classic: Zelai Txiki!